That was a long, hot summer! Our active boys have literally been bouncing off the walls. If you are like us, you have been eager to begin some outdoor adventures. As soon as the temperatures dropped, we made a visit to Casa Grande National Monument. Just a short drive from the Phoenix area, it is an easy, part-day outing. When we arrived, we told the Park Ranger about our interest in the Junior Ranger program. He gave us a booklet and explained the age-range activity requirements.
The monument features ancient remains of Hohokam period structures, evidence of their life there, and examples of indigenous plants and wildlife. Though the Casa Grande or "big house" structure is too fragile for interior tours, there is a "secret room" in an adjacent structure you can enter. Getting inside was a challenge for the adults, but the kids thought it was exciting to crouch through a small passageway.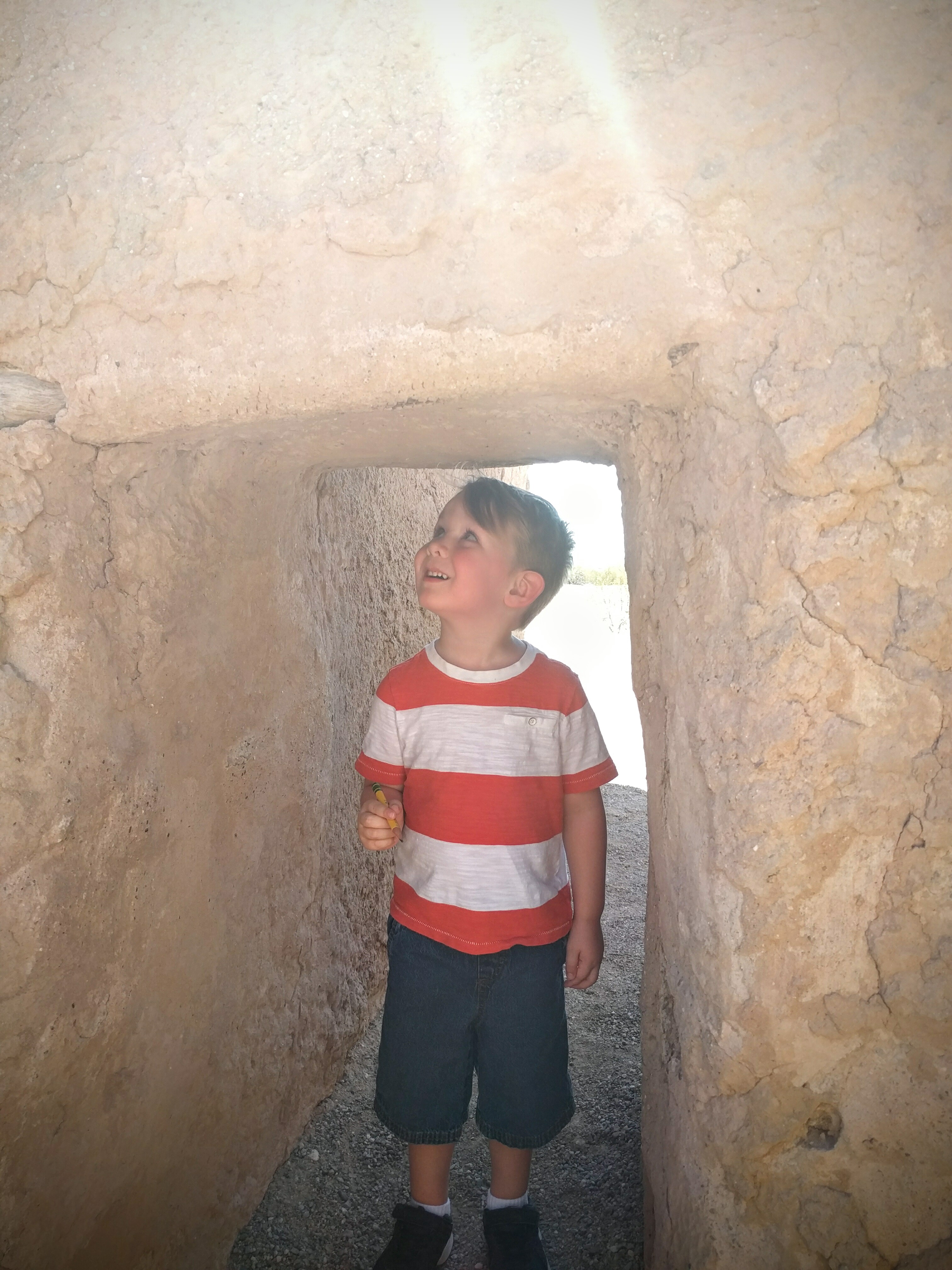 We wondered about the purpose of the room and marveled at the how hard-working this ancient farming community must have been in such a harsh landscape.
The Junior Ranger activities helped answer our boys' many questions about desert life and understand some of the history of our area. The booklet was a kind of self-guide that helped us learn more from the museum, film and ruins. Our family with three little prospective Junior Rangers needed about an hour to explore the monument and complete the activities. When they finished, the Ranger led the boys in an informal oath and awarded them their badges, which they wore proudly.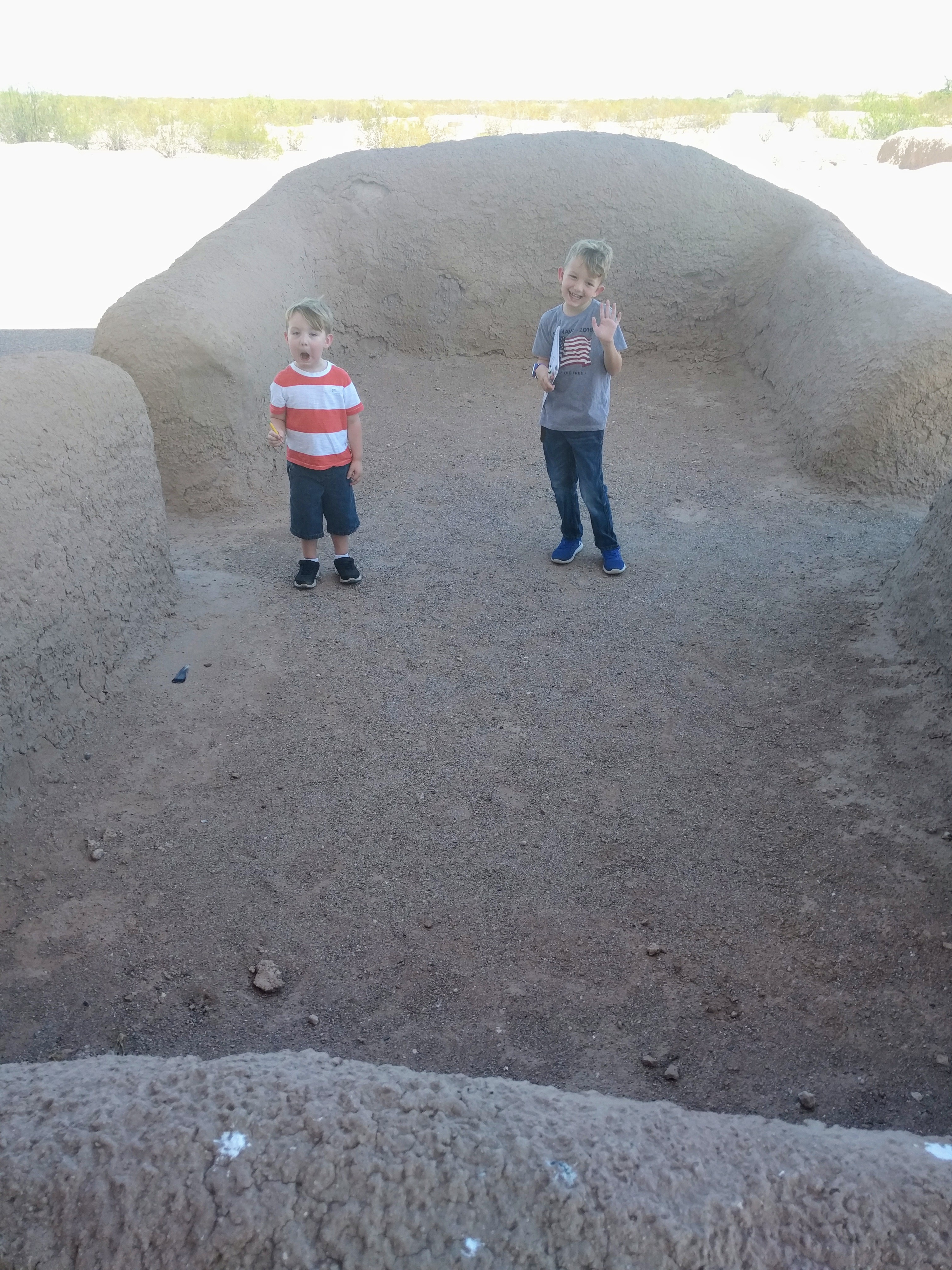 We enjoyed the experience so much, we chose to purchase an $80 annual pass so we could visit more national parks and monuments. Anyone can visit NPS sites on the ten fee-free days in 2017. Also, fourth-grade students can claim an annual pass through the Every Kid in a Park program.
Before you go:
For little kids (like mine), bring pencils, snacks and water. For future visits, we are assembling a pack with a clipboard, binoculars and picture guides of local plants and animals. We picked up Mac's Field
Guides in the gift shop to help us identify cacti and reptiles.
Don't forget your camera! My kids are developing an interest in photography, so we have them take some snaps with an old digital camera. If you are posting on social media, here are some handy hashtags: #findyourpark #everykidinapark #nps100.
Stamp the Junior Ranger booklet and consider getting a passport book to collect stamps in future national park visits. We did and it is exciting to see where we have been.
Find more information here:
Casa Grande Ruins National Monument
Junior Ranger Program at Casa Grande Ruins 
2017 Free Admission Days to Our National Parks
Jodee is a full-time mom to three playful boys. She was raised in the desert, educated in the Rocky Mountains, and the lived in Midwest before returning to the "dry heat." She is passionate about learning, culture, and nature. When she isn't shuttling her boys from school to activities, she is either planning out their next family adventure or playing Duolingo to avoid folding laundry. She dreams of visiting all of the National Parks with her family and to finding the cure for homework battles. You can peek into her life and family outings on Instagram @thatsmoxie.